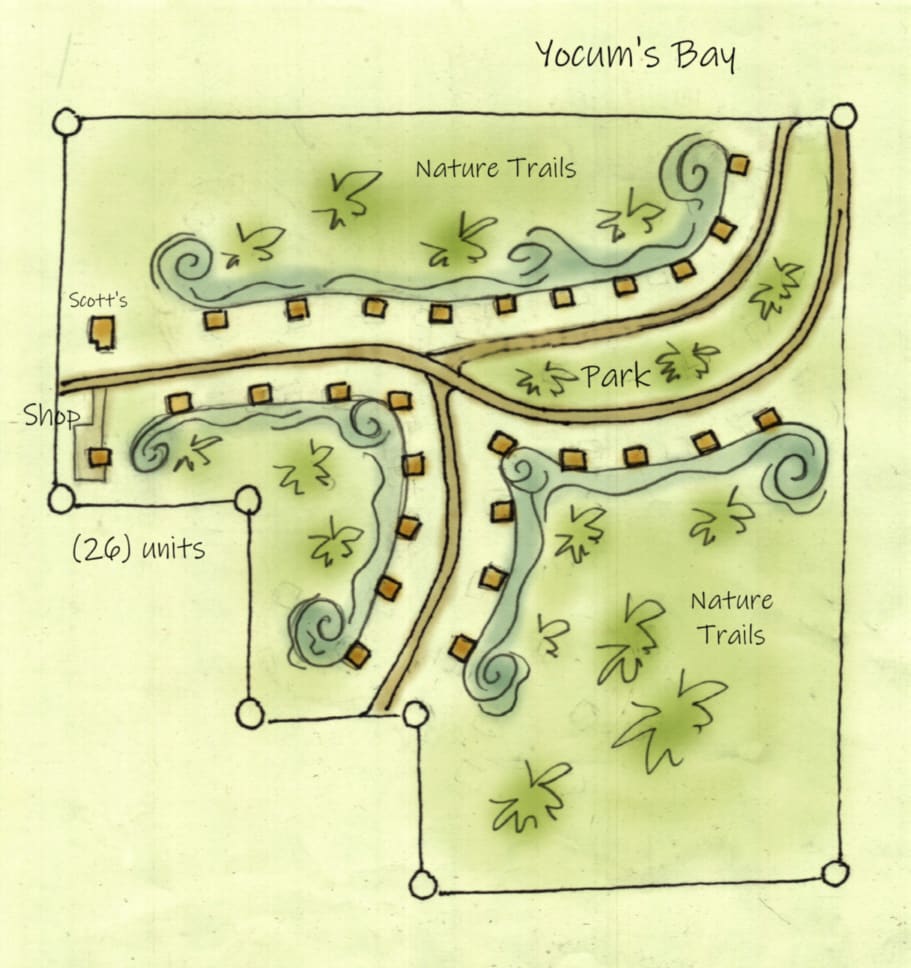 Yocum's Bay
fishing and living community
A low maintenance development, thirty wooded acres of lake front property will soon become homes for nature lovers that love to fish.  Approximately twenty-seven homes will line the roads cutting through the acreage. Building up, not out, will not only save precious land and keep building cost low, but will also offer a spectacular view from the roof top patios. The no frills exterior style of our model home lives up to the fisherman's reputation of being rugged and tough, however, step inside to modern conveniences and comfort that include options for gas log or wood burning fireplaces, with one, two, or even three-bedroom suite floor plans to choose from.
Homes may be used for corporate vacations, short term lease investments or individual ownership, with our shop keeper available for registering guests and managing cleaning service
Lightly stocked with catfish, our man-made streams will back up to the homes. Rear decks will hang over the water's edge, making life a little easier for the lazy fisherman. Being bottom feeders, catfish will be relatively safe from predators in our shallow waterway, and they'll also keep the streams clear.
In the event we're not allowed to install individual septic tanks, our streams will double as lagoons, with some of the expense shared by the home buyers
A small park will fill the space between the two roads, giving the kids a place to play, and maybe a few boulders to climb. Yocum's park will be a great spot to picnic, or meet the neighbors. Nature trails will wind in and around the trees, opening up to small clearings that invite a variety of wildlife to frequent
A cooperative of sorts, the homeowners will share ownership of the common grounds and shop, as well as the responsibility. Yocum's Bay home owners association will be established soon after construction begins. One of the twenty-seven units will be modified as a shop with an apartment above for our shop keeper who will live on site. The shop will offer a wide variety of supplies, groceries and even kayaks to rent. The profit made from this shop will offset the cost to maintain the property, taking a good portion of the load off the homeowners. The shop will have a large picnic table inside and out, offering a spot for patrons to meet for coffee and donuts before heading out to the lake.
Click here to view our Lake View house plan
1517 SF Minimum square footage
Lot sizes: 1/10 of an acre, or approximately 56′ (width) by 78′ (length) starting at the road, and ending at the stream) with 10′ on each side of house for additional parking. Staggered placement of the lots, with a minimum of one lot size of common ground in between will offer each home a measure of privacy. Lots will be cleared as a courtesy for future home buyers if our infrastructure budget allows. Roughly five acres of trees for the entire project will be removed.  The lots will be completely cleared of trees, with mostly pervious substrate, such as river rock, offering a very low maintenance yard that's harmonious with nature. Homeowners will be responsible for maintaining their own lots, however, common grounds will be maintained by the HOA
Minimum lot cost which includes shared rights to common grounds……$38,500 (Pays off loan)
(Divide budget of $1,000,000 by twenty six units)

Home building costs
The estimates below do not include profit

Building cost of 2168 SF unit (3 bedrooms)……..$260,160
Land cost…….$38,500
                                                                    Total cost…….$298,660

Building cost of 1552 SF unit (2 bedrooms)………$186,240
Land cost…….$38,500
                                                                  Total cost……..$224,740

Building cost of 1517 SF unit (one bedroom)…….$182,040
Land cost……….$38,500
                                                                     Total cost…….$220,540
________________________________________________________________
Estimated start up budget……….$1,000,000
Interest on loan hasn't been calculated into estimated cost
Three bedroom model home……………………………………………………$260,000
This amount will be redeemed after the model is sold
900 SF Shop (stocked)……………………………………………….. $150,000

Infrastructure…………………………………………………………………………………..$535,000
Utilities, park, grade and gravel roads, clear trees
Build streams, landscape and stock 
Clerical……………………………………………………………………………$15,000
Legal fees, insurance, accounting and permits
Survey and plat……………………………………………………………..$20,000
Design and planning……………………………………………………$20,000

Recommend adding $100,000 to each home sale, which brings the projected profit to $2,600,000, however, the $600,000 should be budgeted for cost overrun, as this is only a startup estimate. Additional funds may be necessary to complete the infrastructure.
Recommend planning the development out in three phases, with one phase supporting the next. The goal is to complete the development having profited two million dollars.
Investors reserve the right to purchase one home at cost
In the event our request for permit to develop thirty acres with 27 structures is denied, we'll request permission to build 15, and if that request is denied, we'll build one home per five acres. The size and cost per home will increase as the number of homes decrease. Profit margin may or may not be affected