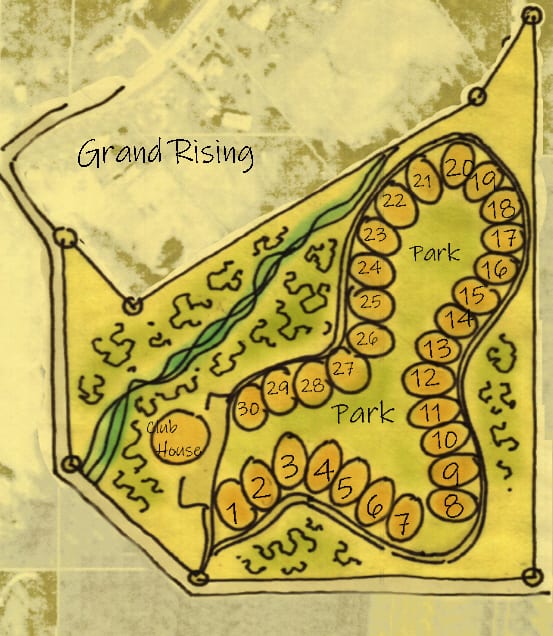 Scope of project
Grand Rising residential development and country club
A prime location in Strafford Missouri, just 15 minutes from Springfield, the road leading to the thirty five acre tract; our prospective development, provides a lovely view of farm land and natural wooded settings
Property location
5780 N Farm Rd 249
Strafford, Missouri
One Source Building Solutions / Jacquelynn Thompson / Brenda Rand
Realtor, residential development, design and planning
Dale Whiteside
Licensed building contractor and current property owner
Organic by design, our exclusive homes will fill the horizon with eloquent towers of silver and gold gables, our color theme. To save precious land, we're building up, not out. Our homes will be three to four stories tall, making elevators a must. Garages will be located below grade with gentle slopes flattening to driveways in front of two to four car garages. The model homes we build will set the precedence for the entire development, however, some homes may be customized specifically for the buyer. Our group will retain exclusive rights to design and building
We'll be using quality finishes inside and out. Real stone, real wood, and real stucco, unlike other houses built today. All of the homes will be closely related in style and materials, creating a development that greatly pleases the eye.
Thirty five extraordinary acres of lush green, rolling hills, with thirty building lots, leaving plenty of room to play
Family will be at the center of attention with this development. Homes will wrap a park that sprawls in between the long, twisting row.  Children will be safely away from traffic while being entertained for hours on end. A path will follow the edge of the property, providing a great place to walk the dog, or take a jog.
Swing set, jungle gym, merry go round, sand box and splash pad will be scattered between picnic tables and park benches. A skate path will wind in and around the park's features.
Pervious roads lined with crushed marble will wind gracefully around the lots, and common grounds, beautifully landscaped.
Split in half by a crystal clear creek and waterfall, the common areas will be landscaped to enhance Mother Nature's architecture to her fullest.
Lot sizes will range from 1/4 to 1/3 and 1/2 acre

A cozy country club offers the members a luxurious place to relax, and get to know their neighbors. We're not building just another home development, we're building a quality, high end community of friends and family. The club supports a day care, offering the utmost of convenience for homeowners.
The third floor level will be left unfinished, leaving it up to the residents to complete the attic space, be it for profit, or for their own enjoyment. The club provides the perfect venue for special occasions, providing an opportunity for the development to profit.
Budget to develop and build
Projected start up cost……….$4,380,000
35 acre tract purchase………$500,000
Advertising……………..$50,000
Infrastructure…………….$750,000
Roads and parking areas, utilities, park, gardens and landscaping
Design and planning……………………..$30,000
Model home……………………………$1,500,000 (estimated building cost)
3500sf and 4500sf models on lots 16 and 17 with the 5000sf model shown in the images placed on lot 1
Country club…………………………….$1,500,000 (building cost)
2500sf structure with small coffee shop or cafe, spa and gym, restrooms, game room, office and reception room seating approximately 120 people. Outdoor swimming pool and tennis court
Surveying and land plan……..$25,000
Legal fees, insurance and permits………$25,000
Projected gross profit…….$27,570,000
Thirty lots @ $119,000 = $3,570,000
Home sales = $24,000,000
Projected average 4000 SF of structure per lot with 30 lots total, estimated selling price at $400 per SF = $48,000,000
Projected average 4000 SF of structure per lot with 30 lots total, estimated cost to build at $200 per SF = $24,000,000
____________________________________________________________________________________
Our group will start up the home owner's association, turning it over to the residents as soon as the development is close to completion and established. Like most country clubs, there will be a monthly membership fee, but unlike most country clubs, the residents will own, operate and profit from the business side of the development, which will soon support maintenance, ground keeping and club house services, as well as seasonal parties and celebrations. The cafe will serve coffee and other various drinks, breakfast rolls and muffins, sandwiches and desserts. The kitchen will be fully licensed and operational as soon as possible, offering convenience to residents, and giving realtors a place to sit with potential buyers, and take in the view.
Start up begins as soon as financing is in place, with three to five years completion time anticipated
_______________________________________________________________________________
The delightful and unique, doll house styling of our models will be the first of many, with most of the trim hand painted
Setting the stage for whats to come, we'll start with our three bedroom, 5000 square foot option Dream Home, designed exclusively for Grand Rising

Eloquent from inside out with gorgeous French Tudor exterior styling.  Walk into a wonderland of architecture with gracefully curved stairs wrapping up and around to the second floor. The foyer is open to above, where a lovely plant shelf allows vine to drape down into the entry. Garden doors open up to a roof top patio where a formal sitting arrangement entertains guests.
You have arrived
Thank you for considering our project. Our group is small, but we make up it for with expertise, enthusiasm and most importantly, integrity